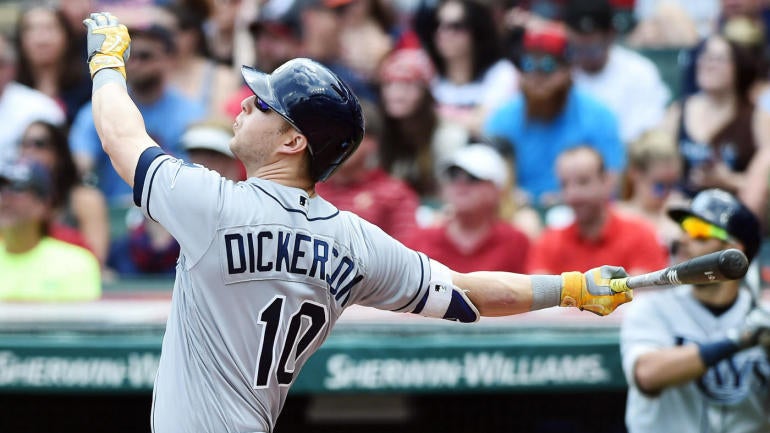 Hump Day brings a full 15-game slate of MLB action, including several day games. Here is our daily recap of the day in baseball.
Wednesday's scores
Astros at Marlins (GameTracker)
Rays at Indians (GameTracker)
Mets at Diamondbacks (3:40pm ET)
Dodgers at Giants (3:45pm ET)
Nationals at Pirates (7:05pm ET)
Orioles at Tigers (7:10pm ET)
Blue Jays at Braves (7:35pm ET)
Reds at Cubs (8:05pm ET)
Phillies at Rangers (8:05pm ET)
Rockies at Twins (8:10pm ET)
Red Sox at Cardinals (8:10pm ET)
Yankees at Royals (8:15pm ET)
White Sox at Angels (10:07pm ET)
Brewers at Padres (10:10pm ET)
Athletics at Mariners (10:10pm ET)
Rays continue to sell out for power
Coming into Wednesday, the Rays ranked fourth in baseball with 56 home runs, trailing only the Brewers (65), Nationals (62), and Yankees (58). Tampa Bay plays in a much more pitcher friendly home ballpark than those three clubs, especially the Brewers and Yankees.
The Rays added to their season home run total against Indians righty Josh Tomlin on Wednesday, smacking two early home runs against the right-hander. Corey Dickerson got Tomlin in the second, then Logan Morrison got him in the third. Here is Dickerson's blast, his third in the last two days:
Tomlin did not make it out of the third inning Wednesday. He allowed six runs on seven hits, including the two homers, in only 2 1/3 innings. Tomlin now has a 6.86 ERA on the season. Cleveland's starters overall have a 5.15 ERA through 39 games, if you can believe that.
Anyway, the Rays are hitting plenty of home runs this season, and their hitters are selling out to get to that power. No team in baseball swings and misses as much as Tampa Bay.
The Rays as a team came into Wednesday with a 27.0 percent strikeout rate, easily the highest in baseball. The Brewers are a distant second at 24.8 percent. The highest single-season strikeout rate in baseball history is 25.5 percent by the 2013 Astros. These Rays could very well threaten that dubious record.
Quick hits
RHP Tom Koehler has been optioned to Triple-A, the Marlins announced. He has a 7.04 ERA in eight starts so far this season. Koehler had been a mainstay in Miami's rotation since 2013.
Given their ongoing starting pitching issues, the Marlins are considering moving setup man RHP David Phelps into the rotation, manager Don Mattingly told MLB.com's Joe Frisaro.
The Astros are reportedly looking to add a starting pitcher and a left-handed reliever prior to the July 31 trade deadline. It's still a little too early in the season for serious trade talks, however.
OF Gregory Polanco was out of the Pirates' lineup again Wednesday. He has not played since suffering a hamstring injury Sunday. He is considered day-to-day.
Knuckleballer Claire Eccles, 19, will become the first woman to compete in the West Coast League, a collegiate summer league.
MLB on Yahoo! Sports – News, Scores, Standings, Rumors, Fantasy Games